DanStem Newsletter July 2016
The Stem Cell Niche Conference, May 22-26, 2016
185 scientists, representing 24 different nationalities have attended the Stem Cell Niche Conference, that took place at Favrholm Campus, Hillerød. The conference was co-organized by DanStem and The Novo Nordisk Foundation, with the aim of providing a niche for presentations of the latest basic research in stem cell and developmental biology. The informal settings, wide range of speakers and rich social programme enabled open discussions, exchange of ideas and networking. The day following the conference, junior conference participants were invited to visit DanStem.
Helin Group: Potential for new targeted cancer treatment
Kristian Helin's group, The Biotech Research and Innovation Centre (BRIC) and DanStem, has shown that leukaemia cells depend on Jmjd2/Kdm4 demethylases enzymes required
to survive. By inactivating these enzymes, researchers can kill the leukaemia cells. Small molecule inhibitors that can block the enzymes' activity will therefore have considerable potential for treating leukaemia. The results have just been published in the journal Genes and Development. Read more...
EU researchers link reprogramming to stem cell formation and cancer
| | |
| --- | --- |
| | In work published in Nature Cell Biology, DanStem Professor Bo Porse, together with a group of scientists, found out that C/EBPa changes the chromatin and the proteome of B-lymphocytes to make it receptive to the action of the Yamanaka factors. Until now, studies have been hampered by the fact that in biopsy-derived cultures only very few cells convert into iPS cells and that those that do, called 'elite cells', cannot be recognized before they are converted. Now, a European team of scientists have made a big step towards creating such elite cells, discovering a surprising connection between iPS cell reprogramming, blood cell formation in the body and blood cancer. Read more... |
Peak-valley-peak pattern of histone modifications delineates active regulatory elements and their directionality
In a new paper, published in Nucleic Acids Research, April 19, 2016,

Professor Bo Porse and his group

have resolved a distinct epigenetic profile of active regulatory elements. Huge diversity of cell types within a multicellular organism is orchestrated by regulatory elements like enhancers and promoters. Although important, accurate prediction of active regulatory elements is challenging mainly due to our incomplete understanding of different characteristics that define their active state. The team also unraveled that different forms of the PVP pattern can be used to sub-divide active regulatory elements into functionally different classes.

Read more...
Resent publications
Pedersen MT et al (2016). Continual removal of H3K9 promoter methylation by Jmjd2 demethylases is vital for ESC self-renewal and early development. The Embo Journal, 35(12), 1-15, doi:10.15252/embj.201593317.
Schwämmle V, et al (2016). Systems level analysis of histone H3 post-translational modifications reveals features of PTM crosstalk in chromatin regulation. Mol Cell Proteomics, 1-31, doi:10.1074/mcp.M115.054460.
Agger K, et al (2016). Jmjd2/Kdm4 demethylases are required for expression of Il3ra and survival of acute myeloid leukemia cells. Genes & Development, 1-11, doi:10.1101/gad.280495.116.
Riso V, et al (2016). ZFP57 maintains the parent-of-origin-specific expression of the imprinted genes and differentially affects non-imprinted targets in mouse embryonic stem cells. Nucleic Acids Research, 1-14, doi: 10.1093/nar/gkw505
Vishnubalaji R, et al (2016). MicroRNA-320 suppresses colorectal cancer by targeting SOX4, FOXM1, and FOXQ1. Oncotarget, 1-14, doi:10.18632/oncotarget.8937.
Bao J, et al (2016). UPF2-Dependent Nonsense-Mediated mRNA Decay Pathway Is Essential for Spermatogenesis by Selectively Eliminating Longer 3'UTR Transcripts. PLoS Genetics, 12(5), e1005863, doi:10.1371/journal.pgen.1005863.
Pundhir S, et al (2016). Peak-valley-peak pattern of histone modifications delineates active regulatory elements and their directionality. Nucleic Acids Res, 1-15, doi: 10.1093/nar/gkw250.
O'Connor C, et al (2016). The presence of C/EBPalpha and its degradation are both required for TRIB2-mediated leukaemia. Oncogene, 1-10, doi:10.1038/onc.2016.66.
Di Stefano B, et al (2016). C/EBPα creates elite cells for iPSC reprogramming by upregulating Klf4 and increasing the levels of Lsd1 and Brd4. Nature Cell Biology, 18(4), 371-381, doi:10.1038/ncb3326.
Helbo AS, et al. (2015). Hypermethylation of the VTRNA1-3 Promoter is Associated with Poor Outcome in Lower Risk Myelodysplastic Syndrome Patients. Genes (Basel), 6(4), 977-990, doi:10.3390/genes6040977.
Rasmussen KD & Helin K (2016). Role of TET enzymes in DNA methylation, development, and cancer. Genes & Development, 30(7), 733-750, doi:10.1101/gad.276568.115.
DFF- Research Project Grant to Professor Joshua Brickman
Professor Joshua Brickman has received the DFF-Research Project Grant from The Danish Council for Independent Research, Medical Sciences. The ministry awarded 56 DFF-Research Project Grants to researchers in Denmark to the sum of approximately DKK 135 million.

The project's aim is to find out how the enhanced differentiation of human VFG cells is regulated. What transcriptional and epigenetic differences specify enhanced pancreatic differentiation and how is this controlled by signalling.



Read more...
EMBO long-term fellowship to Ober group postdoc- Sara Caviglia
Postdoc Sara Caviglia from Elke Ober's group was awarded two-year EMBO Long-Term Fellowship for her project:
Liver goes live- from migrating progenitors to functional epithelial units
Lundbeckfonden fellowships to DanStem young researchers
Postdoc Silja Heilmann from the Semb group, and Pre-doc student Alba Redo Riveiro from the Brickman group have received scholarships from the Lundbeckfonden to conduct their research.

Postdoc Silja Heilmann from the Semb group has received a Lundbeckfonden Postdoc fellowship for her project: "A 3D virtual tissue model for testing hypotheses about mechanical interactions during Organogenesis."

Pre-doc student Alba Redo Riveiro from the Brickman group has received a Lundbeckfonden PhD fellowship for the project "Totipotent Stem Cells Arising from Transcription Factor Discord."
M.Sc student Laura Martin Coll awarded a poster prize at BSCB-BSDB
| | |
| --- | --- |
| | Laura Martin Coll, Masters Student at the Grapin-Botton group was awarded second prize for her poster presented at the BSCB-BSDB, British Society for Cell Biology and British Society for Developmental Biology joint Spring Meeting, 10th - 13th April 2016, University of Warwick. The award was given to the poster titled: "Single Cell Analysis of Progenitor Heterogeneity at the Onset of Pancreas Organogenesis". |
***
Professor Kristian Helin nominated advisor to Danish Ministry
Professor Kristian Helin was nominated a member of a development team to make concrete recommendations to the Danish Ministry of Business and Growth. The team's role is to define and recommend vital actions needed to development towards 2025, and shall deliver its recommendations to the government in early 2017. The government intends to use the recommendations to a growth plan that will support the Danish pharmaceutical and medical device industry. Read more...

Copenhagen BioScience PhD Programme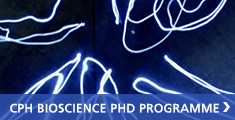 The first group of 14 students of the Copenhagen Bioscience PhD Programme will move to Denmark in late summer to start their education programme, starting September 5, 2016.
The students will start with a rotation period in the four Novo Nordisk Centers, located at Copenhagen University and DTU. This year, three of these students will be assigned to DanStem. A launch event for the new initiativethe will be held on September 9, 2016. The next round of recruitment will start in late summer. The poster for the Bioscience PhD programme 2017 is available HERE.
***
Professor Anne Grapin-Botton commented on two new achievements in human embryology
| | |
| --- | --- |
| | Professor Anne Grapin-Botton commented on two new publications about human embryos kept alive in the lab for unprecedented 13 days. The commentary was given to the Danish newspaper Politiken, which featured the research, conducted by two teams at the University of Cambridge and Rockefeller University in New York, and was published in parallel papers in Nature and Nature Cell Biology. Read more... |

The Stem Cell Day 2016
| | |
| --- | --- |
| Every year scientists from DanStem are engaging in ample outreach and dissemination activities, where researchers at all levels are interacting with different groups of the society. Notably, DanStem's major annual outreach event is The Stem Cell Day, where junior scientists from six research groups are visiting Danish high schools to interact with the students and provide a glimpse of stem cell research. The Stem Cell Day this year was held on May 3, 2016, at Nørre Gymnasium, a high school in Copenhagen. A group of 25 junior scientists from DanStem have planned an outstanding day, bringing with them, high quality microscopes, cell samples and fun activities. Over 110 students and teachers were out of their normal schedule and dedicated the whole day to science. Read more… | |
DanStem scientists participate in 'Order a Researcher' (Bestil en Forsker)
Assistant Professor

Mette Christine Jørgensen

(

The Serup group

) and PhD student

Svend Bertel Steffensen

(

The Grapin-Botton group

) have participated at the 'Order a Researcher' (Bestil en Forsker) initiative, where researchers could be booked to give a short lecture about their research.

The two DanStems' scientists have volunteered 'to be booked' in order to tell their research story. On April 27, 2016, Svend and Mette have visited Novo Nordisk A/S in Bagsværd, for two hours, giving an introduction to stem cell research. They were talking about stem cells in general, using stem cells in future diabetes treatments and the availability of (unproven) stem cell treatments at private clinics in e.g. USA and Europe.
Brain Bee Word Competition - Visit to DanStem
A group of 26 students, participated at the 2016 International Brain Bee Competition, have visited DanStem on July 1st 2016. The visit consisted of a brief presentation, short talks by PhD students and a tour to the labs and research facilities. The aim was to give the students a glimpse of stem cell research and an introduction to state of the art research facilities. Read more...


To reply to this email, please write to naomi.dayan@sund.ku.dk

Unsubscribe
Sendt d. 05 July 2016